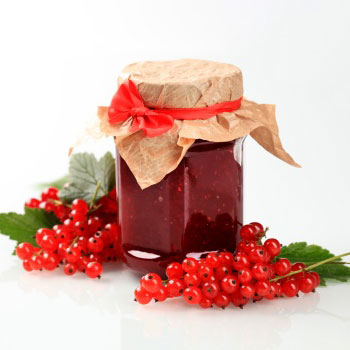 Ingredients:
3 cups cranberries
1 orange, peeled and seeded
2 tsp. orange zest (from above orange)
1 (10 oz.) package frozen sliced strawberries, slightly thawed
1/4 tsp. ground cloves
1/4 tsp. ground cinnamon
4 cups sugar
1/2 cup water
1 (3 oz.) packet liquid fruit pectin
Steps:
1) Combine cranberries and sections of seeded orange in a food processor.
2) Pulse until coarsely chopped.
3) Add strawberries, zest, cloves and cinnamon.
4) Continue processing until finely chopped, but not pureed.
5) Stir together fruit mixture, sugar and water in a very large saucepan or dutch oven until well blended.
6) Cook for 2 minutes over low heat, stirring constantly.
7) Increase heat to high and bring mixture to a full, rolling boil.
8) Stir in liquid pectin. Stirring constantly, bring to a rolling boil again and boil for one minute.
9) Remove from heat and skim off foam.
10) Immediately pour into 6 hot, sterilized half-pint jars.
11) Carefully wipe clean rims of jars with a damp cloth.
12) Place lids on jars and screw on bands just until snug.
13) Process in boiling water bath for 10 minutes.
14) Remove from water bath and cool away from drafts until jars seal.