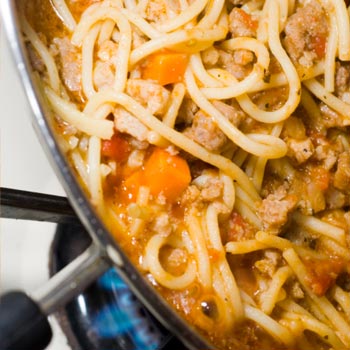 I haven't tried this because I don't care for carrots, but perhaps some of you do =)
Ingredients
8 oz. pork sausage
1 tbsp. oil
1/2 oz. butter
1/2 onion
Chopped 3 carrots
14 oz. tomatoes
4 fluid oz. chicken stock
1 bay leaf
1 tsp. dried oregano
12 oz. pasta (macaroni or rigatoni)
3 oz. freshly grated Parmesan cheese Seasoning
Steps
If using whole sausage remove meat from skins.
Grate and shred the carrots.
Puree the tin of tomatoes.
Heat the oil and butter in a saucepan and cook the onion until translucent.
Add the sausage meat and lightly brown, breaking it up with a fork.
Add the carrot and stir for a few minutes.
Add the tomatoes, stock bay leaf and oregano and cook, covered over a "low" heat for 30 minutes.
Taste for seasoning.
Cook and drain pasta.
Mix pasta with the sauce, and serve.
Serve cheese separately.
Ready in 1 hour