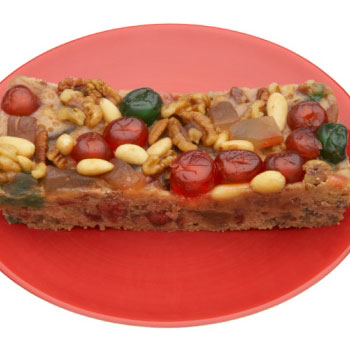 Ingredients
4 oz. self-raising flour
4 oz. plain flour
6 oz. sugar
6 oz. margarine or butter
3 eggs
3 tsp. mixed spice
1 orange, rind of, grated
1 lemon, rind of, grated
1 oz. almonds, chopped
8 oz. mixed currants, sultanas & raisins
2 oz. candied peel
2 tbsp. marmalade
Steps
1) Preheat oven to 300 degrees and lightly grease 8 in. cake pan.
2) Cream butter and sugar together until light.
3) Add eggs and mix well.
4) Stir in flour, grated lemon and orange rind, and mixed spice.
5) Fold in almonds, and mixed fruits.
6) Bake for approximately 3 hours.
7) Remove when done and cool on a rack.
8) Turn out of pan and glaze top with marmalade.