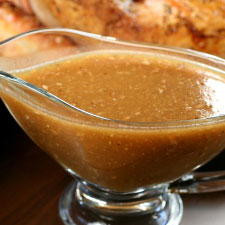 Ingredients
Turkey giblets and neck bone
2 cups chicken broth
2 medium carrots, finely chopped
1 celery rib, chopped
2 large shallots, finely chopped
1/2 cup cornstarch
3 cups cold water
1/4 cup turkey drippings
2 tsp. chicken bouillon granules
Directions
1) Place the giblets, neck bone, broth, carrots, celery & shallots in a large saucepan; bring to a boil.
2) Reduce heat; cover and simmer for 1-1/4 hours.
3) Strain and discard giblets, neck bone and vegetables; set cooking juices aside.
4) In another large saucepan, combine cornstarch and water until smooth.
5) Stir in the drippings and bouillon until smooth.
6) Gradually stir in the reserved cooking juices.
7) Bring to a boil; cook and stir for 2 minutes or until thickened. Season with pepper.